Joe and RuthAnn Manley teach music lessons on Tuesdays and Thursdays between 4PM & 8PM at Open Door Church. Ruth Ann teaches piano and Joe teaches voice, bass, and guitar.
* 30 minutes lesson / $20
($80 for 4 week month, $100 for 5 week month)
Introductory lesson:
New students may take one 30-min introductory lesson before committing to weekly lessons. The price for the lesson is $20. Payment (cash or check) for your first lesson is due at that lesson. Checks should be written out to Joe Manley or RuthAnn Manley. Email ruthann.manley@gmail.com to schedule an introductory lesson.
Tuition:
Tuition is paid monthly and is due and payable on the first scheduled lesson of each month. Regardless of attendance, payment will need to be current with each month in order to hold your time slot. Books and other materials will be charged separately.
Payment:
1) Personal check. Please make check payable to either Joe Manley or RuthAnn Manley.
2) Cash (please have exact amount in the envelope with the student's name on it)
About Joe and RuthAnn
Joe began singing in a choir at age 7 and has continued to this day! He is a Nebraska native. He was active in both vocal music and drama in school and continued that path to college earning a Bachelor of Arts in Education from Wayne State College in Wayne, Neb., and a Masters in Music from the University of Nebraska-Lincoln in Voice and Opera Performance. Joe performed for many years with Opera Omaha and the Omaha Symphony as a soloist and chorus member. He taught vocal music in the Omaha Public Schools for 27 years and taught private voice lessons during that time. Joe also taught guitar for OPS, developing a successful program that continues to this day. Joe uses his guitar skills to accompany himself and others in worship settings, first in Omaha and now in Edenton. I look forward to making music with you and inspiring you to learn and grow as musicians!
RuthAnn is originally from Minnesota where she began playing piano in elementary school. She participated in many musical activities including band, choir and drama. She continued singing in college choirs. RuthAnn used her piano skills to accompany soloists and various groups in Minnesota and Nebraska. It was in Nebraska that she became involved in children's worship, accompanying musical performances and playing in worship bands. She has continued using her piano skills in Edenton, including participation in the Open Door worship band. RuthAnn views playing as an act of worship.
Joe and RuthAnn moved to Edenton in December of 2016.
_______
For details or questions, email ruthann.manley@gmail.com.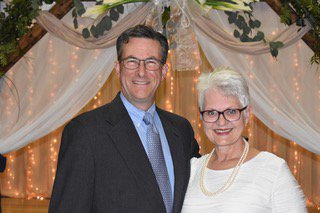 To begin the process, fill out the form below or fill out the physical form at the welcome desk or church office. You will be contacted to finish the process of getting signed up by Joe & RuthAnn directly.